Zero trust for network visibility
Fill out the form to download our eBook. Deep dive into Cisco Secure Zero Trust, where the goal is to extend state-of-the-art security capabilities across your organization.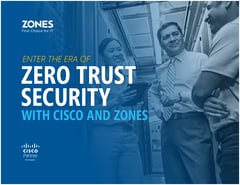 Protect access to your network by granting the right level to users and devices with network authentication. Gain visibility into your network – including users, devices (IoT and others), and segment your network to defend access to critical business assets. Respond to risks by detecting and containing infected endpoints and revoking network access whenever you encounter suspicious activity.